Fireplace Blower Replacement Fan Kit For Heatilator Majestic FK24 GFK4 FK12 FK4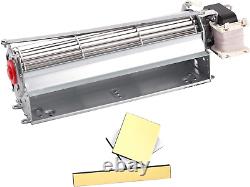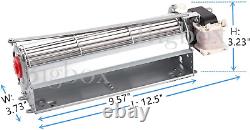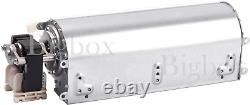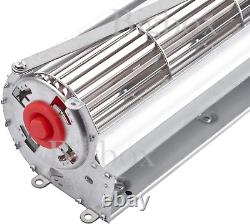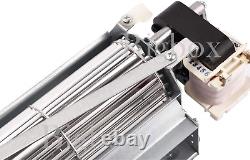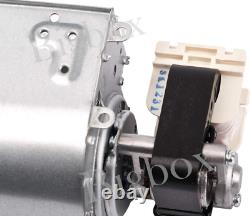 Fireplace Blower Replacement Fan Kit For Heatilator Majestic FK24 GFK4 FK12 FK4. Replacement Fireplace Fan Blower for Heatilator NDV4236I, ND4236, GNDC36, ND3933, GNDC33, NDV36-IFT, ND4236I, GC300, GNRC36, ND3933I, NDV3933I, GNBC36, NDV4842I, CD4236IR, CD4842IR, GNRC33, ND4842, NDV4236, NDV4236IL, CD4842R, GC361, GCDC36, GNBC33, GNTC50, NDV33-IFT, NDV4842. Replacement Fireplace Fan Blower for Majestic 36BDVRRN, DV360, 36BDVR, DV360RN, 36LDVRRN, 39BDVR, DVRT36, 36BDVT, 36LDVR, 36BDVRRP, 36BDVR RN, 36BDVTRN, DV580, RHE32, DVT36, 39BDVR RN, DV360RFN, 36LDVTRN, DVT36RN. Replacement ndv4236i blower, three double stick foam pads (two on the back and one on the bottom of the blower).
Length x Width x Height: 12.5" x 3.73" x 3.23", Air discharge length: 9.57", Motor RPM: 3000, Airflow in C. M: 130, Volts: 120, Frequency: 60 Hz, Power Consumption: 31 watts. Cross Reference Numbers: FK12, ZA1110, Rotom HB-RB12, R7-RB12, FK24, 54103, Rotom HB-RB64, R7-RB64, FK4, Rotom HB-RB74, R7-RB74, GFK4, GFK4A, GFK4B.
Installs Easily and Reduces Noise? - This replacement heatilator ndv4236i blower comes with double stick foam pads to attach it to the existing fireplace walls. The foam pads also help with stopping any noise created by the fan from being transmitted to the sheet metal back wall of the gas insert and making it act like a sound amplifier. The heatilator fireplace blower helps keep the warm air moving, it does a great job at blowing the warm air into the room. The heat will be much more uniformly throughout the room, rather than being overly-concentrated just around the fireplace. Replacing your heatilator blower today, warming your home, warming your heart! Heats Quickly and Reduces Energy Bills? - Without the blower or use a worn blower, you have to spend about 90 minutes on warms the room. If you have a new blower fan, it will greatly reduce the time required to heat up the room. Does It Fit Your Fireplace?? Replacement Fireplace Blower for Heatilator NDV4236I ND4236 GNDC36 ND3933 GNDC33 NDV36-IFT ND4236I GC300 GNRC36 ND3933I NDV3933I GNBC36 NDV4842I CD4236IR CD4842IR GNRC33 ND4842 NDV4236 NDV4236IL CD4842R GC361 GCDC36 GNBC33 GNTC50 NDV33-IFT NDV4842 CD4236IR-C CD4236R GC150 GCDC42 NB3933 ND3933L ND4236IL ND4236L NDV30-IFT NDV42-IFT NDV42 NDV3933 NDV4236L NDV4842IL NNXT4236IF CD4236 CD4236ILR CD4842 CD4842ILR CD4842IR-C GC150E GC160LE GC300E GNBC33LE GNDH33 NB4236 NB4236I NDV3933IL.. Replacement Fireplace Blower Fan for Majestic 36BDVRRN DV360 36BDVR DV360RN 36LDVRRN 39BDVR DVRT36 36BDVT 36LDVR 36BDVRRP 36BDVR RN 36BDVTRN DV580 RHE32 DVT36 39BDVR RN DV360RFN 36LDVTRN DVT36RN DVT39RN 36BDVT RN 36XDV RN 39BDVT 43BDVR RN DV360RP DV360 RN DV360 RFN DVRT36RFN 360DVS2RN 36LDVR RN 36XDV RN UVC36RN UVC43RN UVS33 UVS36RN.. Replacement Fireplace Blower for Monessen CDVR36NSC7, CDVR36NV, CDVT36NV7, 36CDVZRRN, 36CDVZRRP, 36CDVZTRN, 36CDVZTRP, BC36, BC42, CDVT33PE7, CDVT33PSC7, CDVT33PV, CDVT33PV7, CDVT36, CDVT47, CLDVD, CRDVD.. Replacement Fireplace Fan Blower for Martin CDVR33, CDVR36, CDVR36NE7, CDVR36NSC7, CDVR36NV, CDVR36NV7, CDVR36PE7, CDVR36PSC7, CDVR36PV, CDVR36PV7, CDVR42, CDVR42NE7, CDVR42NSC7, CDVR42NV, CDVR42NV7, CDVR42PE7, CDVR42PSC7, CDVR42PV, CDVR42PV7, CDVR47, CDVR47NE7, CDVR47NSC7, CDVR47NV, CDVR47NV7, CDVR47PE7, CDVR47PV, CDVT33... Replacement Fireplace Blower Fan for Northern Flame A232, D232, DBR33, DBR36, DBR39, DBT33, DBT36, DBT39. Replacement Fireplace Fan Blower for Temco 33RDV, 33TDV, 36CDV, 36CDVTRN, 36CDVTRP, 36CDVX, 36CDVXRN, 36CDVXRRP, 36CDVXTRN, 36CDVXTRP, 36RDV, 36RDVD, 36RDVDSN, 36RDVDSP, 36RDVN, 36RDVP, 36TDV, 36TDVD, 36TDVDSN, 36TDVDSP, 36TDVN, 36TDVP.. 3.73"D x 12.5"W x 3.23H. If there are any issues at any time, let us know and we will get back to you sooner than you'd expect. We offer the best prices around on high-quality products.
Our store includes media such as books, movies, music, and games while offering electronics, toys, tools, general home, garden items, and more. We will do everything in our power to make sure you are satisfied!
We're always happy to help. This item is in the category "Home & Garden\Home Improvement\Heating, Cooling & Air\Fireplaces & Stoves\Fireplace & Stove Replacement Parts".
The seller is "positive-vibes101" and is located in this country: US. This item can be shipped worldwide.
Type: Fireplace Blower Parts
Mounting Type: Wall Mount
Material: Foam
Electric fan design: Blower
Product Dimensions: 3.73\
Number of Blades: 3
UPC: 744759103222
EAN: 0744759103222