Gas Fireplace Blower Fan Kit FBK-250 for Lennox Superior Rotom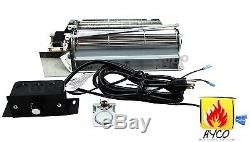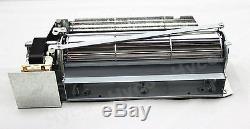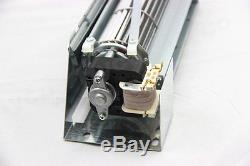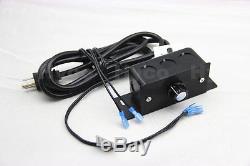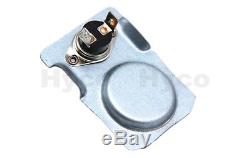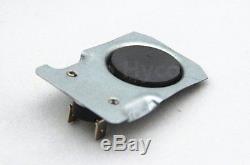 Special Notes for this item. The BRAND names and MODEL numbers. Provided are just for your reference. If you are looking for parts. This item MIGHT be compatible with grills listed below. Please DO double check the size and shape of your original parts, and compare with the specifications for our item before ordering. Gas Fireplace Blower Fan Kit FBK-250 for Lennox Superior Rotom.
Our FBK-250 fan kit is designed to fit a variety of popular Lennox and Superior gas and wood fireplaces. The FBK-250 is a variable speed blower kit that includes a rheostat variable speed controller and thermostat. The FBK-250 kit is designed for home setups that lack a designated wall switch for the blower. Instead, the thermostat will automatically turn the blower on and off at set temperatures. If a designated wall switch is already installed, the FBK-100, FBK-200 and FBK-250 can be used.
Another feature we've added to our FBK-250 kit is a galvanized mounting bracket. Generally, metals are easy to get rusty. A fireplace blower kit is an efficient and affordable way for you to finally take advantage of your fireplace's wasted heat energy. A properly installed blower kit will last for years and provide your home with energy saving heat. Blower Total Length (NOT included mounting bracket) = 12.5" Width = 3.73" Height = 3.23" Flange Opening = 9 1/2"; Motor RPM: 3000; Airflow in C. M: 130; Ratings: 120V, 60Hz; Power Consumption (watts): 35; Thermostat Temperature (approximately): Activate at 120°F / 50°C, shutoff at 90°F / 32°C; Material: Aluminum + Galvanized Steel; Certifications: Rheostat, Thermostat, Motor UL Approved. Benefits: Helps reduce costly energy bills, Heats large rooms efficiently, Installs quickly and easily with included instructions, Reasonable price aftermarket parts. Wall switch for blower NOT REQUIRED. Replacement Fireplace Blower Fan Unit. Pre-wired harness for easy installation. Galvanized mounting bracket (prevents rusting). VF5000-CMN-2, VF5000-CMP-2, VF5-CMN-2, VF5-CMP-2, VF6000-CMN-2, VF6000-CMP-2, VF6-CMN-2, VF6-CMP-2, VFPF-CMN-2, VFPF-CMP-2, VFST-CMN-2, VFST-CMP-2, B-500CEN, B-500CEP, B-500CMN, B-500CMP, B-600CEN, B-600CEP, B-600CMN, B-600CMP, B-800CEN, B-800CEP, B-800CMN, B-800CMP, BC-36, BC-36-2, BC-42, BC-42-2, BCI-36, BCI-36-2, BCI-42, BCI-42-2, CDCL-CEN, CDCL-CEP, CDCL-CMN, CDCL-CMP, CDCR-CEN, CDCR-CEP, CDCR-CMN, CDCR-CMP, CDPF-CEN, CDPF-CEP, CDPF-CMN, CDPF-CMP, CDST-CEP, CDST-CMN, CDST-CMP, CF5500-CMN, CF5500-CMP, CF6500-CMN, CF6500-CMP, CFPF-CMN, CFPF-CMP, CFST-CMN, CFST-CMP, D-400CEN, D-400CEP, D-400CMN, D-400CMP, D-500CEN, D-500CEP, D-500CMN, D-500CMP, D-600CEN, D-600CEP, D-600CMN, D-600CMP, D-800CEN, D-800CEP, D-800CMP, DR-400CEN, DR-400CEP, DR-400CMN, DR-400CMP, DR-500CEN, DR-500CEP, DR-500CMN, DR-500CMP, DR-600CEN, DR-600CEP, DR-600CMN, DR-600CMP, DR-800CEN, DR-800CEP, DR-800CMN, DR-800CMP, DS-36TN, DT-400CEN, DT-400CEP, DT-400CMN, DT-400CMP, DT-500CEN, DT-500CEP, DT-500CMN, DT-500CMP, DT-600CEN, DT-600CEP, DT-600CMN, DT-600CMP, DT-800CEN, DT-800CEP, DT-800CMN, DT-800CMP, DVR5, DVR5000 SERIES, DVR5-RE, GHC-5500N, GHC-5500NE-2, GHC-5500P, GHC-5500PE-2, GHC-6500EN, GHC-6500EP, GHC-6500N, GHC-6500P, HC-36, HC-36, HC-36-H, HC-42, HC-42-H, HCD36MH, HCI-42, HCI-42-H, SDDV-35NE, SDDV-35NM, SDDV-35PM, SDDV-40NE, SDDV-40NM, SDDV-40PM, SDV35, SLDVT-30NE, SLDVT-30NM, SLDVT-30PM, SLDVT-35NE, SLDVT-35NM, SLDVT-35PM, SLDVT-40NM, SLDVT-40PM, SLDVT-45NE, SLDVT-45NM, SLDVT-45PM, SSBV-3530CNE, SSBV-3530CNM, SSBV-4035CNE, SSBV-4035CNM, SSDVPF-CNE-B, SSDVPF-CNM-B, SSDVR-3328CMN, SSDVR-3328CNE, SSDVR-3530CNE, SSDVR-3530CNM, SSDVR-4035CNE, SSDVR-4035CNM, SSDVST-CNE, SSDVST-CNM, SSDVST-CNM-B, SSDVT-3328CNE, SSDVT-3328CNM, SSDVT-3530CNE, SSDVT-3530CNM, SSDVT-4035CNE, SSDVT-4035CNM, UVF-36, UVFC-500, UVFC-5000, UVFC-5000H, UVFC-600, UVFCE Series, UVFCE-40, UVFCE-45, UVFRC-3628, UVFRC-3628-H, UVFRC-4228-H, VF4000-CHN-2, VF4000-CHP-2, VF4000-CMN-2, VF4000-CMP-2, VF4-CHN-2, VF4-CHP-2, VF4-CMP-2, VF4-CNM-2.
Cross Reference Numbers: Blower Kit FBK250, FBK-250, Rotom HB-RB250, 80L86. The FBK-250 kit has a rheostat variable speed controller and a magnetic thermostat on/off switch. The rheostat will include an on/off position and will allow you to easily control the RPM speed of the blower from the position where rheostat installed by user.
The kit is pre-wired for easy installation, but always consult with a professional or qualified technician if you experience problems during the installation. Helps reduce costly energy bills. Length x Width x Height (inches w/ bracket).
13.63 x 4.63 x 4.5. Length x Width x Height (inches w/o bracket). 12.5 x 3.73 x 3.23. Class H (rated to 392°F / 200°C). Yes, replaces blower wall switch. Activate at 120°F / 50°C, shutoff at 90°F / 32°C. We are not responsible for wrong/ undeliverable address, especially the P.
Request for a return In an unlikely or mistake order event. We care about you, our valued customers; we will always try to help you out.
Thanks in advance for your patience. The item "Gas Fireplace Blower Fan Kit FBK-250 for Lennox Superior Rotom" is in sale since Monday, October 12, 2015.
This item is in the category "Home & Garden\Home Improvement\Heating, Cooling & Air\Fireplaces & Stoves\Replacement Parts". The seller is "pzbbq" and is located in Augusta, Georgia. This item can be shipped to United States, Canada, United Kingdom, Denmark, Romania, Slovakia, Bulgaria, Czech republic, Finland, Hungary, Latvia, Lithuania, Malta, Estonia, Greece, Portugal, Cyprus, Slovenia, Sweden, Belgium, France, Ireland, Netherlands, Poland, Spain, Italy, Germany, Austria, Mexico, Switzerland, Norway, Croatia, Costa rica, Dominican republic, Panama.
Type: Replacement Fireplace Blower
Brand: HYCO SHOP
MPN: FBK-250
Model: FBK-250