Fireplace Blower Fan Kit Replacement Unit Parts for Lennox Super Rotom FBK-200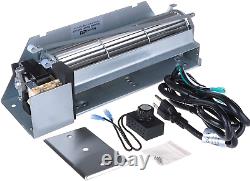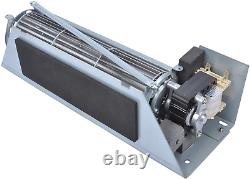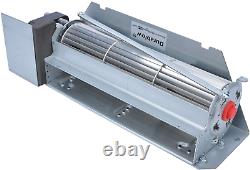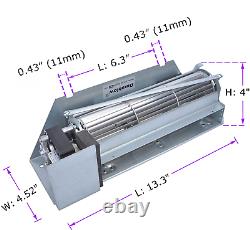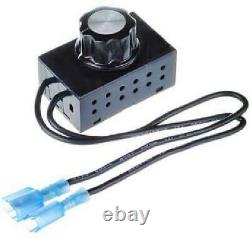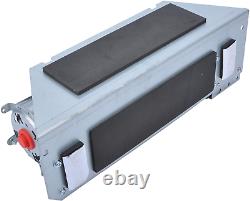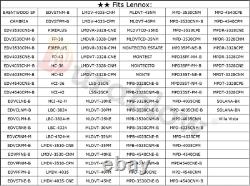 Durablow MFB002-B FBK-200 Replacement Fireplace Blower Fan Kit for Lennox, Superior, Rotom. Blower total Length = 9.75" Width = 3.73" Height = 3.23" Flange Opening = 7". Motor Type: Replacement blower fan unit; Insulation: Class H (rated to 392F / 200C). Motor RPM: 2500, Airflow in C.
M: 125, Volts: 120, 0.6 Amps, Frequency (hertz): 60, Power Consumption (watts): 31. Certifications: Power Cord, Motor UL Approved. Includes package: blower fan unit, 3-prong power cord, connecting wire, rheostat & thermostat, galvanized mounting bracket, noise reduction padding & installation instructions.
NOTE: The "Fits" BRAND and MODEL # Listed are Reference ONLY! Make sure you measure the size of your original blowers and compare with the replacements BEFORE you order.
Does it fit your fireplace? Make sure you have the space to fit it.
NDV4236IL, NDV4842, NDV4842I, NDV4842L, NDV4842IL, NEVO3630I, NEVO4236I, NNXT3933I, NNXT3933IL, OLYMPUS, SC60, SL-350TRS-IPI, SL-550BE, SL-550BE-IPI, SL-550TRS-E, SL-550TRS-IPI-E, SL-750TRS-E, SL-750TRS-IPI-E, TITAN? NNXT4236I, NNXT4236IL, NOVi30, NOVi30L, NOVi35, NOVi35L. BC36DFN, BC36DFP, BCDV33 SERIES, BCDV33NR, BCDV33PR, BCDV34 SERIES, BCDV34NT, BCDV34PT, BCDV36, BCDV36CFNTR, BCDV36CFPTR, BCDV36NTR, BCDV36PTR, BCDV40, BCDV42, SERIES, BCDV42N, BCDV42P, BCDV48 SERIES, BCDV48N, BCDV48P, BCNV36 SERIES, BCNV36N, BCNV36P, BCNV42 SERIES, BCNV42N, BCNV42P, CDV33, CDV33NR, CDV33PR, CDV34 SERIES, CDV34NT, CDV34PT, CDV36PTR, CHD35NT, CHD35PT, CHD40NT, CHD40PT, CHD46NT, CHD46PT, CHDX40NT, CHDX40PT, CLHD45N, CLHD45P. B36DFN, B36DFP, BGD33, BGD33NR, BGD33PR, BGD34, BGD34-1NT, BGD34-1PT, BGD36, BGD36CF, BGD36CFG, BGD36NTR, BGD36PTR, BGD38, BGD38NT, BGD38PT, BGD40, BGD40-N, BGD40-P, BGD42, BGD42CF, BGD42N, BGD42P, BGD48, BGD48N, BGD48P, BGNV36, BGNV36N, BGNV36P, BGNV42, BGNV42N, BGNV42P, GD33, GD33NR, GD33PR, GD34, GD34-1NT, GD34-1PT, GD36, GD36MN, GD36NTR, GD36PTR, GD45, GVF36, GVF36N, GVF36P, GVF42, GVF42N, GVF42P, HD35, HD40, HD46, HDX40, HDX40NT, HDX40PT, ZCVF36, ZCVF42.
The advantage of our blower kit. Allows You to Control the Speed of the Blower. Tips: The speed-to-noise sweet spot is Around 3/4 Turn of Max power. No Screws and Nuts Needed.
Closes (turn on) at approx. 120°F and opens (shut off) at approx. Replace your fan when it had become noisy after years of use. This kit comes with everything you need to install it in a fireplace or woodstove.
Saving Energy & High Efficiency. 100% Improvement in Heat Output. Makes a difference in how much heat your fireplace puts out.
We are always working hard to ensure your package arrives as soon as possible. If there are any issues at any time, let us know and we will get back to you sooner than you'd expect. We offer the best prices around on high quality products. Our store includes media such as books, movies, music and games while offering electronics, toys, sporting apparel, clothing, tools, general home, garden items and more.
We will do everything in our power to make sure you are satisfied! We're always happy to help. The item "Fireplace Blower Fan Kit Replacement Unit Parts for Lennox Super Rotom FBK-200" is in sale since Thursday, October 29, 2020.
This item is in the category "Home & Garden\Home Improvement\Heating, Cooling & Air\Fireplaces & Stoves\Fireplace & Stove Replacement Parts". The seller is "positive-vibes101" and is located in Miami, Florida.
This item can be shipped to United States.
Color: Does not apply
Manufacturer: Does not apply
Model: Does Not Apply
Brand: Branded
UPC: 7445003282269
ISBN: Does not apply
EAN: 0711181721317
MPN: Does not apply
Type: Fireplace Blowers & Kits
Fuel Type: Gas