Fireplace Blower Replacement Parts Kit FBK-200 for Astria Lennox Superior Rotom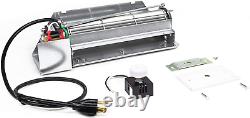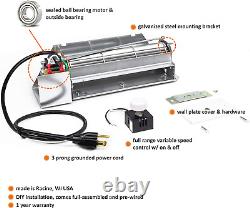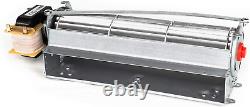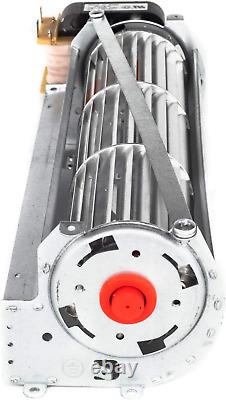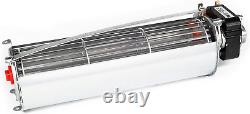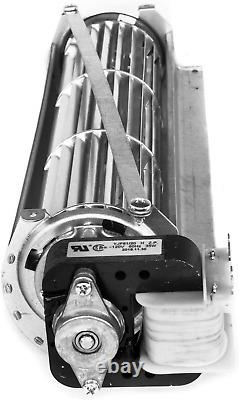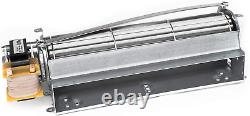 Fireplace Blower Replacement Parts Kit FBK-200 for Astria Lennox Superior Rotom. Kit includes 100% ball bearing blower, 3-prong power cord, rheostat variable speed control (replaces wall switch). Also includes galvanized mounting bracket, noise reduction padding and installation instructions. Comes fully assembled and pre-wired. Assembled and tested in Racine, WI USA.
High Quality Sealed Ball Bearing Motor - Powerful, Quiet, Superbly Balanced, Energy Efficient and Long Lasting. Does it fit your fireplace?
See our compatibility chart in description. Fits Astria: Alpha Vent-Free Radiant Faced Louvered (32ZEN, 32ZEP, 36ZEN, 36ZEP), Altair Series (40DMN, 40DMP, 40DEN, 40DEP, 45DMN, 45DMP, 45DEN, 45DEP, DLX 40DEN, DLX 40DEP, DLX 45TEN, DLX 45TEP), Aries Series (Aries 33, Aries 35, Aries 40, Aries 45), Elite Series (EDV35, EDV40, EDV45, EDVCL, EDVCR, EDVPF, EDVST, ELDV-35, ELDV-40, ELDV-45), Eros Series (35STDMN, 35STDMP, 35STDEN, 35PFDMN, 35PFDMP, 35PFDEN), Gemini Series (Gemini 33, Gemini 35, Gemini 40, Gemini 45, CD35, CD40), Libra Series (ST40, PF40, CL40, CR40), Merit Series (MLDVTCD-35, MPD35, MPD40, MPD45, MPDR33, MPDT33), Rhapsody (42TEN, 54TEN), Scorpio Series (35, 40, 45, CD35, CD40, CD45), Sirius Series (42TEN, 42TEP, 54TEN, 54TEP)? Fits Lennox: Merit Series (DTH-3025, DTH-3530, DTH-4035, DRH-3025, DRH-3530, DRH-4035, HC-36, HCI-36, HC-42, HCI-42, RD-36, RDI-36, RD-42, RDI-42, LMDV-3530, LMDV-4035, LMDVR-3328, LMDVT-3328, MDR3328, MLDVT-30, MLDVT-35, MLDVT-40, MLDVT-45, MLDVTCD-35, MPB3328, MPB3530, MPB4035, MPD35, MPD40, MPD45, MPDT33, MPDR33, MPD-3530, MPD-4035, MPD-4540, MPDT-3328, MPDR-3328), Elite Series (EBVSTNM, EBVSTPM, EBVSTNE, EBVPFNM, EBVPFPM, EBVPFNE, EDV3530, EDV4035, EDV4540, EDR3530, EDT3530, EDVCLNM, EDVCLPM, EDVCLNE, EDVCRNM, EDVCRPM, EDVCRNE, EDVPFNM, EDVPFPM, EDVPFNE, EDVSTNM, EDVSTPM, EDVSTNE, ELDV-35, ELDV-40, ELDV-45)? Fits Superior: B-500, B-600, B-800, BCF-3885, BCF-4385, BC-36, BCI-36, BC-42, BCI-42, D-400, D-500, D-600, D-800, DR-500, DR-600, DR-800, DT-500, DT-600, DT-800, DRC2000, DRC2033, DRC2035, DRC2040, DRC2045, DRC2000, DRT2033, DRT2035, DRT2040, DRT2045, DS-36, CDCL, CDCR, CDPF, CDST, SSBV-3530, SSBV-4035, SSDVR-3530, SSDVR-4035, SSDVT-3530, SSDVT-4035, SSDVPF, SSDVST, SDV35, SDDV-35, SDDV-40, SLDVT-30, SLDVT-35, SLDVT-40, SLDVT-45, UVFR-500, UVFR-600, UVFC-500, UVFC-600, UVF-36, UVFRC-3628, UVFRC-4228?
Cross reference part #'s: 80L85. 130 Cubic Feet Per Minute. If there are any issues at any time, let us know and we will get back to you sooner than you'd expect. We offer the best prices around on high-quality products.
Our store includes media such as books, movies, music, and games while offering electronics, toys, tools, general home, garden items, and more. We will do everything in our power to make sure you are satisfied! We're always happy to help. This item is in the category "Home & Garden\Home Improvement\Heating, Cooling & Air\Fireplaces & Stoves\Fireplace & Stove Replacement Parts". The seller is "positive-vibes101" and is located in this country: US.
This item can be shipped worldwide.
Type: Fireplace blower
Power Source: AC
Mounting Type: Wall Mount
Color: Metal
Special Feature: Variable Speed Dial
Material: Metal
Air Flow Capacity: 130 Cubic Feet Per Minute
Electric fan design: Blower
Finish Type: Finished
Wattage: 35 watts
UPC: 705353067655
EAN: 0705353067655