Fireplace Blower Fan FBK-250 Replacement Parts Kit for Lennox Superior Rotom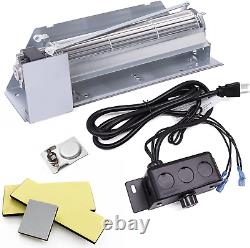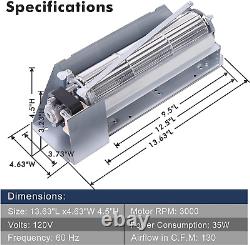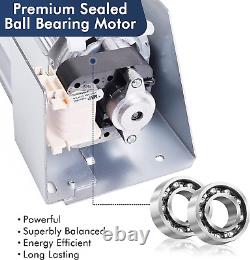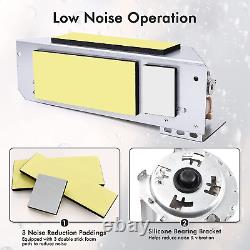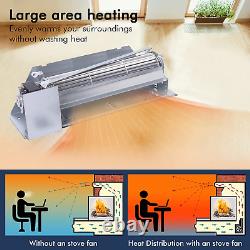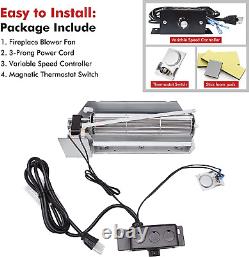 Fireplace Blower Fan FBK-250 Replacement Parts Kit for Lennox Superior Rotom. The FBK-250 fireplace blower fan kit includes 100% ball bearing blower, 3-prong power cord, rheostat variable speed controller and thermostat. Also includes galvanized mounting bracket, noise reduction padding and installation instructions. Cross Reference Numbers: FBK-250, FBK250, 80L86, Rotom HB-RB250, R7-RB250. The FBK-250 fireplace blower fan kit is designed to fit a number of fireplaces, including models from Lennox, Superior and Astria.
Universal Applications : The fbk-250 blower fan kit can typically be used in universal applications, so long as adequate mounting space is available. Specifications of Lennox and Superior Fireplace Blower Fan Kit? Adjustable Fan Speeds, Turns On/Off Automatically? The FBK-250 Lennox blower speed is manually controlled by rotating the speed control knob until the desired speed is achieved. The thermal switch can automatically control the on/off function of your fireplace blower fan.
Temperature switch closes at approximately 120°F and opens at approximately 90°F (+/- 5°F tolerance). Installs Easily and Reduces Noise? The FBK-250 Superior fireplace blower comes with double stick foam pads to attach it to the existing fireplace walls. The foam pads also help with stopping any noise created by the Monessen fan from being transmited to the sheet metal back wall of the gas insert and making it act like a sound amplifier.
SUITABLE BRAND OF FBK-250 FIREPLACE BLOWER FAN KITS. DR-500CMN, DT-500CMN, DT500CMN, BC-36, BC-36-2, SLDVT 35 NM, SLDVT-40NM, B-500, B-600, B-800, BCF-3885, BCF-4385, BC-36, BCI-36, BC-42, BCI-42, D-400, D-500, D-600, D-800, DR-500, DR-600, DR-800, DT-500, DT-600, DT-800, DRC2000, DRC2033, DRC2035, DRC2040, DRC2045, DRC2000, DRT2033, DRT2035, DRT2040, DRT2045. DS-36, CDCL, CDCR, CDPF, CDST, SSBV-3530, SSBV-4035, SSDVR-3530, SSDVR-4035, SSDVT-3530, SSDVT-4035, SSDVPF, SSDVST, SDV35, SDDV-35, SDDV-40, SLDVT-30, SLDVT-35, SLDVT-40, SLDVT-45, UVFR-500, UVFR-600, UVFC-500, UVFC-600, UVF-36, UVFRC-3628, UVFRC-4228. Elite Series (EBVSTNM, EBVSTPM, EBVSTNE, EBVPFNM, EBVPFPM, EBVPFNE, EDV3530, EDV4035, EDV4540, EDR3530, EDT3530, EDVCLNM, EDVCLPM, EDVCLNE, EDVCRNM, EDVCRPM, EDVCRNE, EDVPFNM, EDVPFPM, EDVPFNE, EDVSTNM, EDVSTPM, EDVSTNE, ELDV-35, ELDV-40, ELDV-45).
Merit Series (DTH-3025, DTH-3530, DTH-4035, DRH-3025, DRH-3530, DRH-4035, HC-36, HCI-36, HC-42, HCI-42, RD-36, RDI-36, RD-42, RDI-42, LMDV-3530, LMDV-4035, LMDVR-3328, LMDVT-3328, MDR3328, MLDVT-30, MLDVT-35, MLDVT-40, MLDVT-45, MLDVTCD-35, MPB3328, MPB3530, MPB4035, MPD35, MPD40, MPD45, MPDT33, MPDR33, MPD-3530, MPD-4035, MPD-4540, MPDT-3328, MPDR-3328). Alpha Vent-Free Radiant Faced Louvered (32ZEN, 32ZEP, 36ZEN, 36ZEP), Altair Series (40DMN, 40DMP, 40DEN, 40DEP, 45DMN, 45DMP, 45DEN, 45DEP, DLX 40DEN, DLX 40DEP, DLX 45TEN, DLX 45TEP), Aries Series (Aries 33, Aries 35, Aries 40, Aries 45), Elite Series (EDV35, EDV40, EDV45, EDVCL, EDVCR, EDVPF, EDVST, ELDV-35, ELDV-40, ELDV-45), Eros Series (35MN, 35MP, 35EN, 35PFDMN, 35PFDMP, 35PFDEN), Gemini Series (Gemini 33, Gemini 35, Gemini 40, Gemini 45, CD35, CD40). HOW DOES A FIREPLACE BLOWER WORK? Fireplace blower fan helps circulate the air in the room and pushes warm air out while pulling cooler air into the fireplace's air channel. Combining convective and radiant heat to produce unmatched warmth and comfort!
WHY DO WE NEED TO USE BLOWER FAN? Fireplace blower fan spreads the warm air out over a greater area. The whole room is a comfortable temperature instead of the immediate area beside the unit being really hot, and the far corner of the room is much cooler. ARE FIREPLACE BLOWER FANS LOUD? Today's modern fireplace fans are actually quite exceptional compared to those even 10-15 years ago.
They are quieter, more powerful, and last longer than ever before. If there are any issues at any time, let us know and we will get back to you sooner than you'd expect. We offer the best prices around on high-quality products.
Our store includes media such as books, movies, music, and games while offering electronics, toys, tools, general home, garden items, and more. We will do everything in our power to make sure you are satisfied! We're always happy to help.
This item is in the category "Home & Garden\Home Improvement\Heating, Cooling & Air\Fireplaces & Stoves\Fireplace & Stove Replacement Parts". The seller is "positive-vibes101" and is located in this country: US.
This item can be shipped worldwide.
Cooling Method: Air
Color: FBK-250 Fireplace Blower Kit
Wattage: 35 watts
Voltage: 115 Volts
Maximum Rotational Speed: 1500 RPM
UPC: 313095680645
EAN: 0313095680645