FBK-250, FBK250 Fireplace Blower KIT for Lennox, Superior, Rotom HB-RB250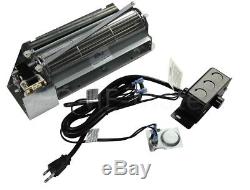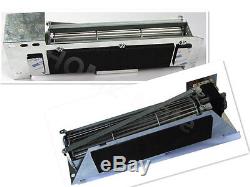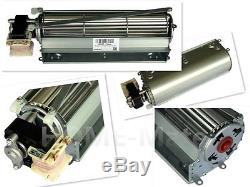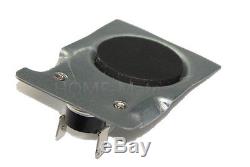 Special Notes for this item. If you are looking for parts, the BRAND and MODEL No. # (if provided, this item might be compatible with) listed below are just for your reference as shopping guide. Please DO double check the size and shape of your original parts, and compare with the specifications for our item before ordering. FBK-250, FBK250 Fireplace Blower KIT for Lennox, Superior, Rotom HB-RB250.
Includes blower fan unit, speed control module, thermodisc assembly, galvanized mounting bracket, noise reduction padding & installation instructions. Wall switch for blower NOT REQUIRED. Blower total Length = 12.5" Width = 3.73" Height = 3.23" Flange Opening = 9 1/2", Insulation Class H (rated to 392°F / 200°C) Motor RPM: 2050, Airflow in C. M: 118, 120V, 0.6 Amps, 60Hz, Power Consumption (watts): 31W; Material: Aluminum + Galvanized Steel; Certifications: Motor UL Approved.
Cross Reference Numbers: Blower Kit FBK250, FBK-250, Rotom HB-RB250, 80L86. NOTE: The "Fits" BRAND and MODEL # Listed below are Reference ONLY! Make sure you measure the size of your original blowers and compare with the replacements BEFORE you order.
VF5000-CMN-2, VF5000-CMP-2, VF5-CMN-2, VF5-CMP-2, VF6000-CMN-2, VF6000-CMP-2, VF6-CMN-2, VF6-CMP-2, VFPF-CMN-2, VFPF-CMP-2, VFST-CMN-2, VFST-CMP-2, B-500CEN, B-500CEP, B-500CMN, B-500CMP, B-600CEN, B-600CEP, B-600CMN, B-600CMP, B-800CEN, B-800CEP, B-800CMN, B-800CMP, BC-36, BC-36-2, BC-42, BC-42-2, BCI-36, BCI-36-2, BCI-42, BCI-42-2, CDCL-CEN, CDCL-CEP, CDCL-CMN, CDCL-CMP, CDCR-CEN, CDCR-CEP, CDCR-CMN, CDCR-CMP, CDPF-CEN, CDPF-CEP, CDPF-CMN, CDPF-CMP, CDST-CEP, CDST-CMN, CDST-CMP, CF5500-CMN, CF5500-CMP, CF6500-CMN, CF6500-CMP, CFPF-CMN, CFPF-CMP, CFST-CMN, CFST-CMP, D-400CEN, D-400CEP, D-400CMN, D-400CMP, D-500CEN, D-500CEP, D-500CMN, D-500CMP, D-600CEN, D-600CEP, D-600CMN, D-600CMP, D-800CEN, D-800CEP, D-800CMP, DR-400CEN, DR-400CEP, DR-400CMN, DR-400CMP, DR-500CEN, DR-500CEP, DR-500CMN, DR-500CMP, DR-600CEN, DR-600CEP, DR-600CMN, DR-600CMP, DR-800CEN, DR-800CEP, DR-800CMN, DR-800CMP, DS-36TN, DT-400CEN, DT-400CEP, DT-400CMN, DT-400CMP, DT-500CEN, DT-500CEP, DT-500CMN, DT-500CMP, DT-600CEN, DT-600CEP, DT-600CMN, DT-600CMP, DT-800CEN, DT-800CEP, DT-800CMN, DT-800CMP, DVR5, DVR5000 SERIES, DVR5-RE, GHC-5500N, GHC-5500NE-2, GHC-5500P, GHC-5500PE-2, GHC-6500EN, GHC-6500EP, GHC-6500N, GHC-6500P, HC-36, HC-36, HC-36-H, HC-42, HC-42-H, HCD36MH, HCI-42, HCI-42-H, SDDV-35NE, SDDV-35NM, SDDV-35PM, SDDV-40NE, SDDV-40NM, SDDV-40PM, SDV35, SLDVT-30NE, SLDVT-30NM, SLDVT-30PM, SLDVT-35NE, SLDVT-35NM, SLDVT-35PM, SLDVT-40NM, SLDVT-40PM, SLDVT-45NE, SLDVT-45NM, SLDVT-45PM, SSBV-3530CNE, SSBV-3530CNM, SSBV-4035CNE, SSBV-4035CNM, SSDVPF-CNE-B, SSDVPF-CNM-B, SSDVR-3328CMN, SSDVR-3328CNE, SSDVR-3530CNE, SSDVR-3530CNM, SSDVR-4035CNE, SSDVR-4035CNM, SSDVST-CNE, SSDVST-CNM, SSDVST-CNM-B, SSDVT-3328CNE, SSDVT-3328CNM, SSDVT-3530CNE, SSDVT-3530CNM, SSDVT-4035CNE, SSDVT-4035CNM, UVF-36, UVFC-500, UVFC-5000, UVFC-5000H, UVFC-600, UVFCE Series, UVFCE-40, UVFCE-45, UVFRC-3628, UVFRC-3628-H, UVFRC-4228-H, VF4000-CHN-2, VF4000-CHP-2, VF4000-CMN-2, VF4000-CMP-2, VF4-CHN-2, VF4-CHP-2, VF4-CMP-2, VF4-CNM-2. Blower Kit FBK250, FBK-250, Rotom HB-RB250, 80L86. Helps reduce costly energy bills. Length x Width x Height (inches w/ bracket) 13.63 x 4.63 x 4.5. Length x Width x Height (inches w/o bracket) 12.5 x 3.73 x 3.23.
Air discharge length (inches) 9.57. Motor Type AC Shaded Pole. Insulation Class H (rated to 392°F / 200°C). Power Cord Length (inches) 75. Rheostat Variable Speed Yes, replaces blower wall switch.
Thermostat Temperature Activate at 120°F / 50°C, shutoff at 90°F / 32°C. Frame Material Aluminum + galvanized steel.
Certifications Rheostat, Motor UL Approved. We are not responsible for wrong/ undeliverable address, especially the P. We care about our valued buyers, if you have any questions, our Customer Service staffs will be very glad to help you. We try our best to reply to your emails as soon as possible, however, due to high volume of daily incoming emails and time zone difference, we may not be able to reply your emails immediately. The item "FBK-250, FBK250 Fireplace Blower KIT for Lennox, Superior, Rotom HB-RB250" is in sale since Tuesday, December 23, 2014. This item is in the category "Home & Garden\Home Improvement\Heating, Cooling & Air\Fireplaces & Stoves\Other Fireplaces & Stoves". The seller is "2013decoshop" and is located in Charleston, Tennessee. This item can be shipped to United States, Canada, United Kingdom, Denmark, Romania, Slovakia, Bulgaria, Czech republic, Finland, Hungary, Latvia, Lithuania, Malta, Estonia, Greece, Portugal, Cyprus, Slovenia, Sweden, Belgium, France, Ireland, Netherlands, Poland, Spain, Italy, Germany, Austria, Mexico, Switzerland, Norway, Ukraine, Croatia, Costa rica, Dominican republic, Panama, Trinidad and tobago, Guatemala, El salvador, Honduras, Jamaica.
Brand: Hongso
MPN: FBK250,FBK-250,Rotom HB-RB250,80L86
Model: FBK-250
Country/Region of Manufacture: China